Audie Mae Designs is this weeks featured Zibbet Artist here at On Fire for Handmade. You will find unique handmade and hand painted items in this Zibbet Shop! Fashions, Accessories Decor and More. All made with love by Audrey Poole.
Audie Mae Designs
Audrey Poole is the artist that works behind the scenes! "My passion is painting on fabrics. Recycled denim clothes for children and hand painted pillow covers are my favorite items. My passion for working with children's denim comes from my 3 grand daughters who love unique denim outfits including skirts, dresses, overalls aprons and purses.
Living close to the beach gives me inspiration for my decorative pillow covers. I have done all types of shorebirds. New in my shop Hand Dyed Silk Scarves.
I am always trying new designs and painting techniques so visit my shop often and give me your ideas and requests."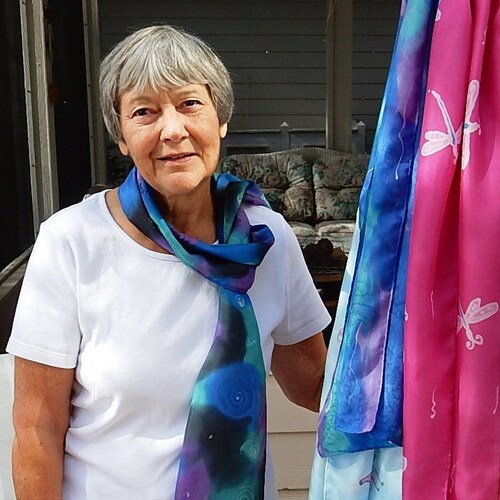 "Recycled denim is still my first love; adding color and interest to children's denim continues to inspire me and my grand daughters still ask for hand painted items. Besides denim, I have created a variety of hand made decorative pillows.
I love making special orders. My other fabric items are hand dyed scarves and ice-dyed cotton. I love working on almost any type of fabric painting. Who knows what will be next."
Find Audrey on:  Zibbet  Etsy Facebook  Audrey is On Fire for Handmade!